Roller Guideway
The HIWIN linear guideways of the RG/QR series use rollers as rolling elements. The RG/QR series is designed with a 45° contact angle. Its linear contact surface greatly reduces deformation from the loading produced and therefore ensures very good rigidity and loading capacity in all 4 loading directions. The linear guides of the RG/QR series are therefore ideal for use in high-precision manufacturing.
The linear guideways of the CRG series offers  better protection against entry of dust and against wear of the end seal due to cover strip.
The RG series provides extremely good rigidity and very good loading capacity. QR type with SynchMotionTM technology.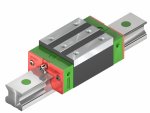 The roller HIWIN linear guideways of the CGR series guarantee high torque loading capacity, easy mounting, better protection against entry of dust and against wear…