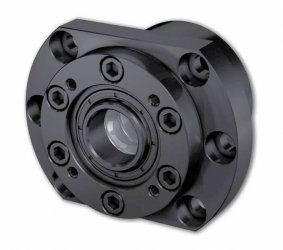 Heavy load supports.
The flanged bearing units WBK consist of a solid steel housing. Because of the used angular contact ball bearings with a 60° contact angle the bearing units can absorb heavy axial loads.
High rigidity and a minimum axial clearance is the result of the preload of the bearings by the housing and the cover plate. All bearing units are shipped with sealing, washers and lock nut.
The bearing units of series WBK are available in different sizes and can be delivered with different numbers of bearings according to the your requirements.
Advantages:
High accuracy
High stiffness
Heavy load applications due to 60° contact angle
Suitable for heavy load applications, such as ballscrew supports for machine tools


Main dimension
Part number
15
70
106
72
60
32
15
80
88
9
14.0
8.5
45
3
58
M5
10
17
70
106
72
60
32
15
80
88
9
14.0
8.5
45
3
58
M5
10
20
70
106
72
60
32
15
80
88
9
14.0
8.5
45
3
58
M5
10
25
85
130
90
66
33
18
100
110
11
17.5
11.0
57
4
70
M6
12
25
85
130
90
81
48
18
100
110
11
17.5
11.0
57
4
70
M6
12
25
85
130
90
96
48
18
100
110
11
17.5
11.0
57
4
70
M6
12
30
85
130
90
66
33
18
100
110
11
17.5
11.0
57
4
70
M6
12
30
85
130
90
81
48
18
100
110
11
17.5
11.0
57
4
70
M6
12
30
85
130
90
96
48
18
100
110
11
17.5
11.0
57
4
70
M6
12
35
95
142
102
66
33
18
106
121
11
17.5
11.0
69
4
80
M6
12
35
95
142
102
81
48
18
106
121
11
17.5
11.0
69
4
80
M6
12
35
95
142
102
96
48
18
106
121
11
17.5
11.0
69
4
80
M6
12
40
95
142
102
66
33
18
106
121
11
17.5
11.0
69
4
80
M6
12
40
95
142
102
81
48
18
106
121
11
17.5
11.0
69
4
80
M6
12
40
95
142
102
96
48
18
106
121
11
17.5
11.0
69
4
80
M6
12
Technical specification
Part number
21,9
26,6
2,15
750
0,19
1,9
21,9
26,6
2,15
750
0,19
1,9
21,9
26,6
2,15
750
0,19
1,9
28,5
40,5
3,15
1000
0,29
3,1
46,5
81,5
4,30
1470
0,39
3,4
46.5
81.5
6.40
2000
0.45
4.5
29,2
43,0
3,35
1030
0,30
3,0
47,5
86,0
4,50
1520
0,40
3,3
47.5
86.0
8.80
2050
0.52
4.3
31,0
50,0
3,80
1180
0,34
3,4
50,5
100,0
5,20
1710
0,45
4,3
50,5
100,0
7,65
2350
0,59
5,0
31,5
52,0
3,90
1230
0,36
3,6
51,5
104,0
5,30
1810
0,47
4,2
51,5
104,0
7,85
2400
0,61
4,7