29.05.2023 | The new showroom at the company's headquarters in Brno presents a complete cross-section of the HIWIN range in one place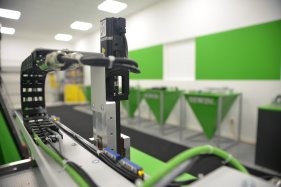 The new showroom in Brno allows HIWIN products to be presented to customers at any time of the year.
The linear technology products presented in the Brno showroom include a range of linear guides and ball screws, as well as positioning system products such as linear axes and multi-axis systems, servo motors, inverters and rotary tables. In addition, customers and industry professionals can see working models of the taxiways, including a complete installation of a gantry-style LT-T taxiway equipped with a FANUC LR Mate 200iD robot.