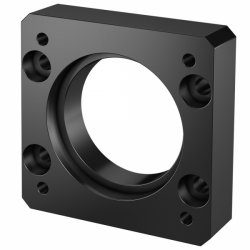 Linear KK axes can be supplied including flanges for different types and manufacturers of servomotors or stepper motors. If no flange dimension is not correct, it is possible to produce a special "customer" motor flange.
Example ordering code linear axis KK:

F0 - standard design without motor flange
F1 - with motor flange type F1
F2 - with motor flange type F2
.
.
H0 - standard flange F0 replaced by a flange H0 - with free shaft (for pulley, gearbox, ....)
Fx - with a special customer motor flange, if it is not possible to select from standard dimensions
Part number
-
-
FRLS20, FRLS40
-
FRMS75
-
-
NEMA34
-
-
FRMM1K
-
Dimensions flanges for KK130