25.05.2022 | Innovative and value-added products of HIWIN helps our customer to fulfill intelligent manufacturing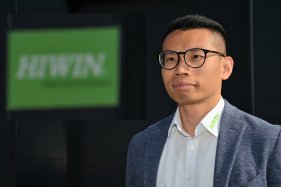 said Jonathan Chiu, Business Development Manager Industry, HIWIN GmbH
What are the strongest points of HIWIN on the global market and what are the HIWIN's products and solutions competitive advantages?
HIWIN is global leader of motion control with product ballscrew and linear guideways, which are key components for all industries. Other than these, HIWIN offers also higher leveled component linear motor and torque motor. Up to module product such as linear positioning system, Datorker strain wave gear and direct drive rotary table. HIWIN is also pioneer of using predictive technology in our i4.0 intelligent ballscrew for advanced machine tool. Besides, we own our knowhow of all kinds of industrial robots.
Innovative and value-added products of HIWIN helps our customer to fulfill intelligent manufacturing. With wide range of solutions, HIWIN benefit to our customers by improving productivity and implement of smart automation. These are competitive advantages of HIWIN.
What is the global business structure of HIWIN and in how many countries are HIWIN products available?
HIWIN has direct subsidiaries in USA, Germany, Japan, Czech, Switzerland, H-Italy, Singapore, Korea, and China. With more than 200 distribution network, we're capable to provide high quality delivery and maintenance in more than 40 countries.
What new products and solutions with HIWIN name do you bring to Europe?
New products from HIWIN include the first in the world i4.0 BS – Intelligent Ballscrew, Torque Motor Rotary Table (TMRT) and Datorker Strain Wave Gear (DT). Furthermore, our new servo drive E1 plays crucial role of next growth in our roadmap.
What are the strongest points and advantages of these new products?
HIWIN i4.0 BS® is the first intelligent ballscrew in the world. It combines a multifunctional sensor to detect vibration and temperature with dedicated developed algorithm. Users can monitor real time status of each machines from our APP, so that predictive maintenance can be realized. It can avoid unexpected shutdown from machines, achieve high machine utilization, energy saving and environmental protection.
HIWIN is the only one in Taiwan and one of the only two in Asia which can produce Torque Motor Rotary Table (TMRT). TMRT equipped with water-cooled direct-drive torque motor, built-in high-rigidity and high-precision bearings, absolute encoders and powerful brakes system. A large number of high end 4/5 axis tool machines are installed with HIWIN TMRT. Compare with mechanical indexing table, TMRT has higher speed and torque characteristics. It suit for the requirement of various 4/5 axis tool machines. Improve the machining accuracy and productivity dramatically.
The advantages of HIWIN Datorker Strain Wave Gear (DT) have the feature of high precision, high efficiency, high torsional rigidity, and low starting torque. It is widely used in robotics, automation equipment, semiconductor equipment, machine tools and other industries. Compared to competitors, HIWIN can provide total solution: DT/GW/BS/Support Unit/Ball spline along with HIWIN Datorker as a package service.
One of important new product is our new generation servo drive and servo motor – E1. With latest hardware structure and algorithm, E1 enables great performance in motion control. User friendly interface and stable EtherCAT fieldbus technology saves huge amount of time and effort for our customer. Special functions such as gantry mode control, multi position, tuneless and so on allows flexible and wide usage of our control technology. With linear or rotary system from HIWIN, E1 is the perfect solution to our user.
How and what way will you support these new products to be successful on the European market?
HIWIN think globally and act locally. We've done full program training to all our subsidiaries, branch offices and distributors in Europe. Here we focus on offering total solution to our customers. The new product strengthen our penetration to market. Meanwhile, HIWIN set continuous improvement target to ourselves. Keeping our product and our service channel competitive at all time.
How is HIWIN reacting to current situation the market? Mainly the shortage of raw materials and electronic chips?
HIWIN has multiple approved suppliers globally. With them, we secure raw materials as well as the electronic components supply without problem.