Direct lubrication system FlexxPump 400 DLS
търсене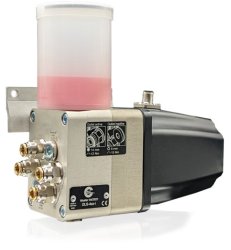 Automatical grease-lubrication for ball screws spindle and linear rails directly pulse-controlled by PLC.
General information FlexxPump 400 DLS (pulsecontrolled directly by PLC)
The FlexxPump 400 DLS is an extraordinary compact lubrication pump for oil (typs 500) or grease (typs 400) up to NLGl. 3, also containing solid lubricants.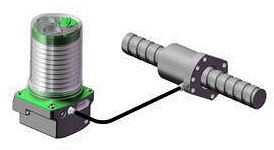 The Pump requires 24V DC external supply. The lubricant reservoir is for the grease-typs 400cm³ (bellow cartdridge/pouch); for the oil-typs it's 500ml and directly filled in. FlexxPump 400/500 DLS is available with up to 4 outlets and is therfore the best solution for application with limited lubrication points (up to 16 by using volume-splitters). Typical applications are the lubrication of bearings, linear guides, ball screws, chains and open gearings or racks. The lubrication is executed by special lubrication pinions or lubrication chain wheels. Different quantities of lubrication are possible.
Technical data of the FlexxPump 400 DLS:
Dimensions, max.:
W x H x D: 112mm x 196mm x 94mm
Weight, without lubricant:
1120g
Storage/volume:
400cm³ grease in a cartrige
Lubricant:
grease up to NLGl. 3 (containing solid lubricants)
Function/principle:
piston pump
Delivery rate per pulse:
0,15 cm³
Number of outlets:
max. 4; rightangeld and pivotable
Operating voltage:
24V DC
Operating current:
Imax: 350mA; typical: 200mA
Fuse:
500mA (characteristic: delay)
Lube-connection:
high pressure tube 6x4
Operating pressure:
max. 70bar (1000 psi)
Operating temperature:
-25°C ... +70°C
Combination:
possible with progressiv systems
Pressure monitoring:
integreated, electronic (monitoring backpressure)
Level monitoring:
integreated, reed-contact
electrical connection:
M12x1; 4-pole
Protection claas:
IP 65 (suitable for underwater operation up to 1m)
Available types FlexxPump 400 DLS:
Order-No.
Type
Description
135-140-210
401 DLS
1 outlet
1 pump body
24 V DC
135-240-210
402 DLS
2 outlets
1 pump body
24 V DC
135-240-212
422 DLS
2 outlets
2 pump bodies
24 V DC
135-340-210
403 DLS
3 outlets
2 pump bodies
24 V DC
135-440-210
404 DLS
4 outlets
2 pump bodies
24 V DC