Roller Guideway
The HIWIN linear guideways of the RG/QR series use rollers as rolling elements. The RG/QR series is designed with a 45° contact angle. Its linear contact surface greatly reduces deformation from the loading produced and therefore ensures very good rigidity and loading capacity in all 4 loading directions. The linear guides of the RG/QR series are therefore ideal for use in high-precision manufacturing.
The RG series provides extremely good rigidity and very good loading capacity.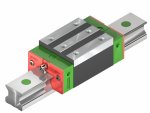 The models of the QR series with SynchMotion™ technology offer all the positive properties of the standard series RG.
Controlled movement of the…